In 1919, when what would become the Wold-Chamberlain Airport (and eventually the Minneapolis-St. Paul International Airport) first began operations on the defunct Twin City Speedway in Richfield, Jack Hohag and his brother's merely watched with interest. The noise from the airfield and the occasional crowds that would come to watch stunt pilots were an inconvenience at most. However, as the crowds continued to increase, drawn by growing attractions like Richfield's own "Mystery Girl" parachutist and traveling circuses, the Hohags discovered that they could no longer ignore the expanding airport's encroachment on their farms.
While many, including Jack's brother Arthur Hohag, would have seen this a threat, Jack saw the airport as an opportunity. In 1931, he converted an old school building on 66th St. and 34th Ave. into a restaurant and nightclub known as the Air-O-Inn. For 11 years, the business served the growing number of people who used and worked at the airport – including fledgling Northwest Airways, Inc. which eventually employed all four of Jack's children.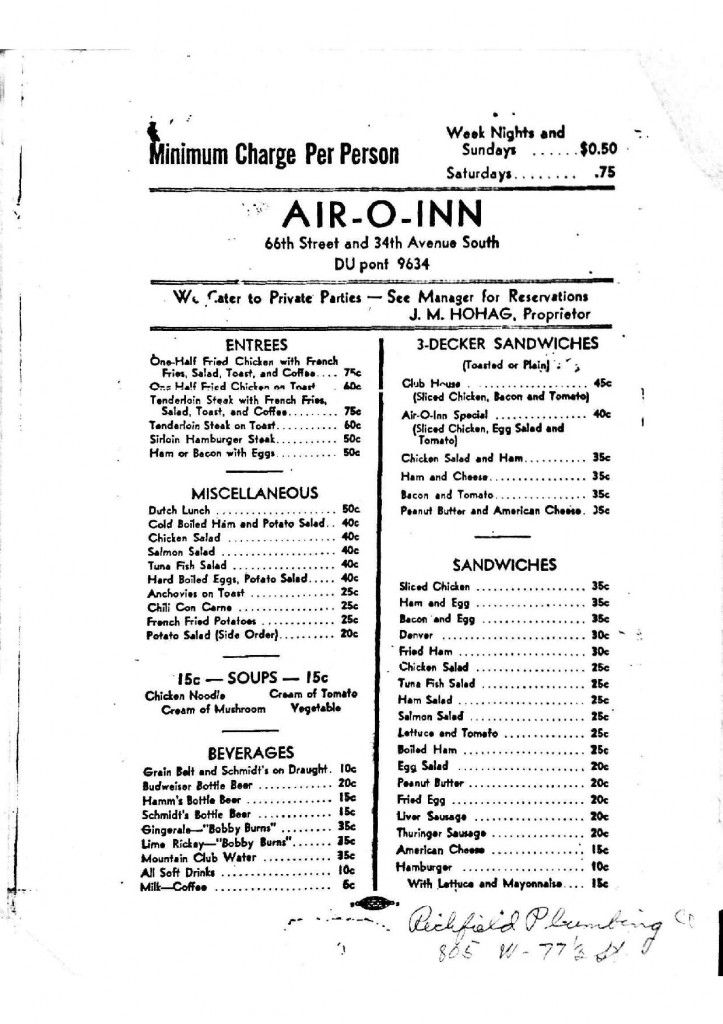 While a great example of how some Richfielders took advantage of the rapid changes coming to their village, the Air-O-Inn was not meant to be. In 1942, the building was converted to a research center for the Navy and eventually torn down as the airport continued to grow.