August 2017
(click for more information)
Now showing The Great Dan Patch (1949)! Come hang out and watch a classic Minnesota based film, displayed on the Bartholomew House. We provide the popcorn, and the film; you bring a chair!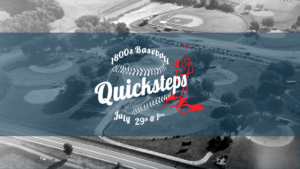 Today we think of baseball as large stadiums, gloves and baseball bats, but it wasn't always that played this way. Join us as we go back in time to learn and play 1860's baseball, with all the old rules, equipment and attire! You might even decide to come in period dress to take it all in!
Afterwards enjoy a free ice cream treat at Culver's!
Our Back Porch Concert features Dan Israel in August. With more than a dozen records to his credit, Dan's music is always honest and insightful, sometimes funny and always heartfelt. Come hear one of Minnesota's premier songwriters!
Remember to bring your lawn chairs or blankets!
Newsletter
Our summer newsletter is available now. It includes information about upcoming events and some interesting moments in Richfield History.